The algorithm that Google uses to determine whether or not an email goes to spam is a black box. There's no way we can really comprehend how it truly works, but there are definitely tips and tricks you can use to minimize the chance that your email gets sent to spam.
Possible Reasons for Google Email Sending Restrictions
Before we delve into various tips, let's first examine the reasons why Google might block your account from sending emails:
Excessive hard bounces
The Gmail account is relatively new
Absence of an unsubscribe link
High number of recipients marking emails as spam
Content flagged as spam
Verify that your SPF, DKIM & DMARC setup
If you are using Google Workspace, it is very important to set up your SPF, DKIM & DMARC setup correctly. The SFP, DKIM & DMARC are technologies to prevent spam, spoofing & phishing with Gmail authentication.
Google has a nice tool to check that. Just go here: https://toolbox.googleapps.com/apps/checkmx/check and enter your domain name.
You should verify all your domains.
If everything is correctly set up, you will get all green checkboxes.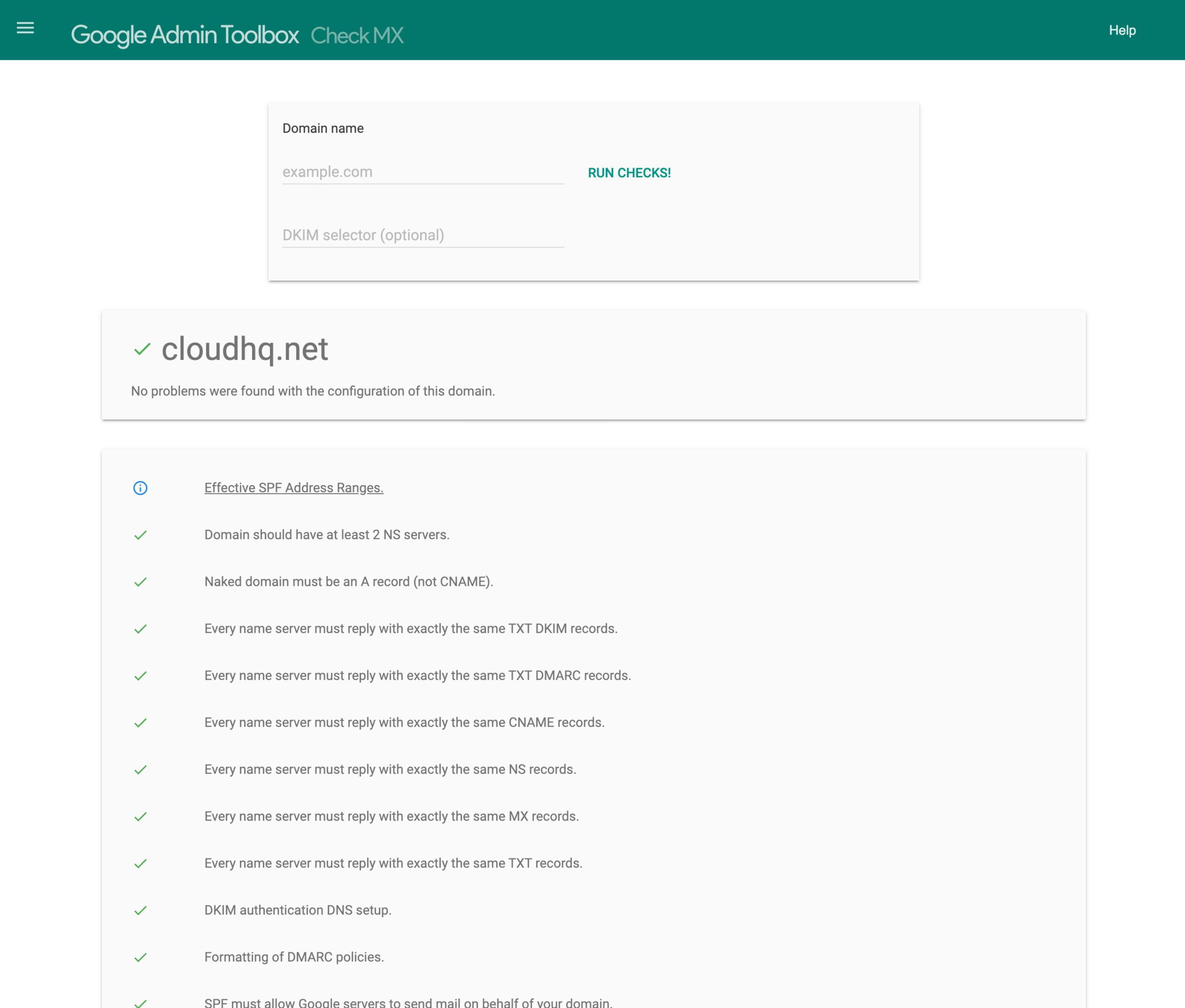 An alternate tool to check your MX, DKIM and DMARC settings is MXToolBox SuperTool.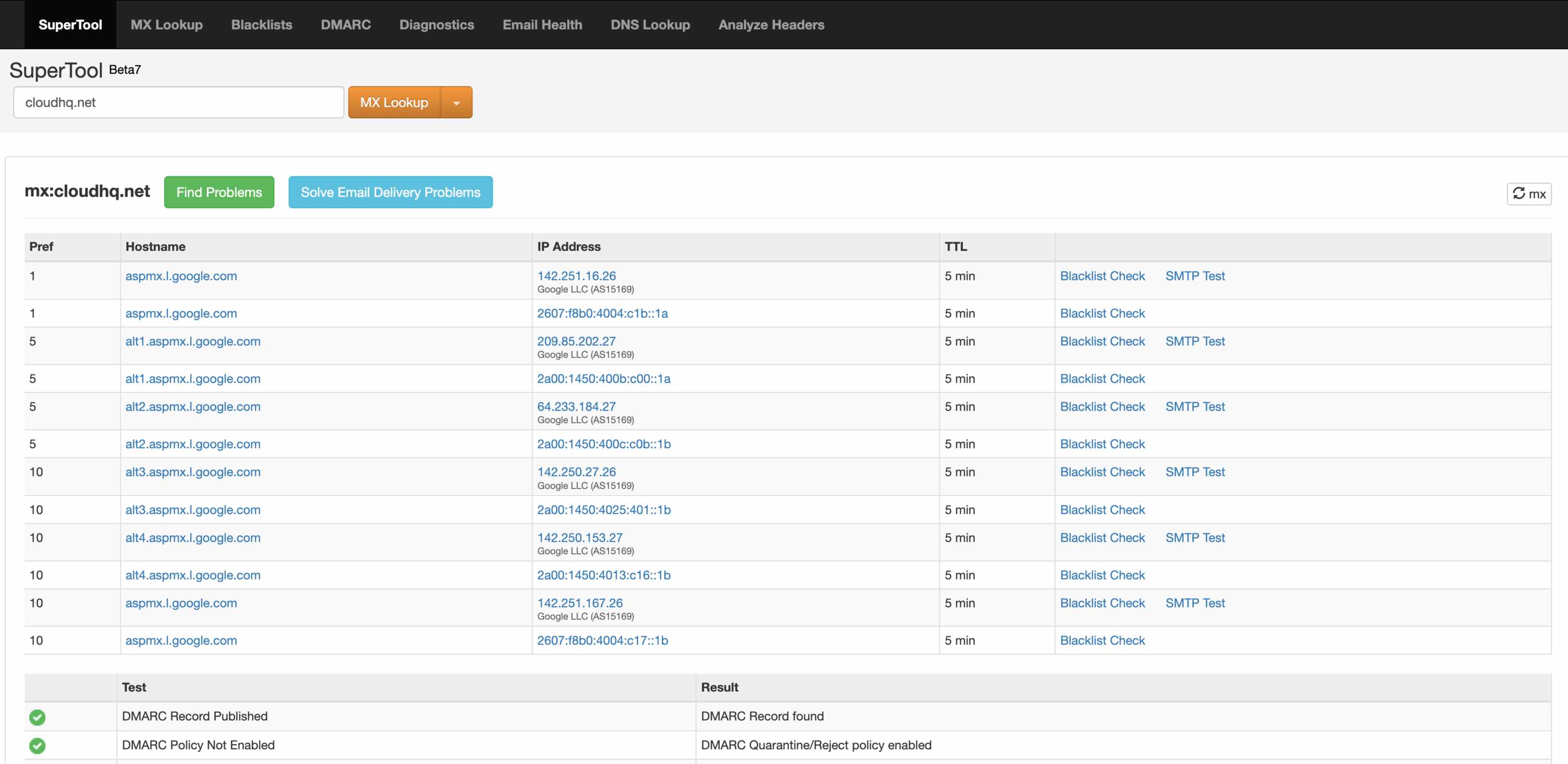 For more details on how to set up this, please refer to the Google Workspace support page: https://support.google.com/a/answer/10583557?hl=en&ref_topic=9061731
Set up valid reverse DNS records of your IP addresses
Additionally, you should also set up valid reverse DNS records of your IP addresses that point to your domain. If your domain does not have a website, create one with Google or similar providers.
Also, maintain updated contact information in your WHOIS record and on abuse.net.
Tweak your email campaigns
If your emails are still getting into spam or being blocked, then try the following:
Ensure that your email addresses are real. Validate all your email addresses – sending emails to is really risky.
Ensure that all your campaigns have an unsubscribe link. The instructions on how to add one are here
Recipients can easily mark your email as "Not Safe" or spam to avoid seeing your messages. Include clear instructions for recipients to mark your emails as Safe. This avoids being blacklisted and ending up with bounced messages.
Try sending an email campaign without "link tracking". To disable link tracking, uncheck the option Enable link tracking in the campaign window. Check for links. Google might think that your email may include links to unsafe content.

Replace all HTTP links with HTTPS
Remove links to public Google Documents
Do not use public shorteners like  bit.ly
If you are sending links, try to send links pointing to the domain that is sending emails. So if you sending from support@acme.com, then your links should point to https://www.acme.com

Don't send emails with a variety of content all in the same email. If you would send an email with promotional content, don't include purchase links.
Ensure that you do not have typos so that Gmail doesn't sort them into spam.
You should use more text instead of images because the latter is correlated to spam.
Messages of the same category should have the same email address in the From: header. For example, messages from a domain called solarmora.com might have From: headers like this:Purchase receipt messages: receipt@solarmora.com
Promotional messages: deals@solarmora.com
Account notification messages: alert@solarmora.com
Check your emails (both body and signature) for spammy content. Although unintentional, your email may include phrases historically used by known spammers. As a general rule, avoid the following:

lots of exclamation marks
"Must read"
Bitcoin or cryptocurrency keywords
attention getting (free money, etc.)
large and/or gaudy colored text
text the same color as the background
tiny text
(almost) zero height images
links are hidden under text
images or links with a different URL
avoid using mailto: links

Google's algorithms can be quite strict for new accounts. In fact, account tenure is a factor for email sending limits. Generally, Google Workspace accounts with at least 6 bill cycles with Google are considered tenured/seasoned and can enjoy sending up to 1,500 daily emails. Accounts with less than 6 billing cycles have much stricter spamming rules.
Monitor your bounce list
As a rule of thumb, you should be aiming for a bounce rate below 3 percent. Google will penalize your sender's reputation if your bounce rate is over 3 percent — harming your ability to send campaigns.
MailKing will automatically detect bounced. You can also use Export Emails to Google Sheets which includes an Email Bounce Checker. This export will automatically create a spreadsheet for you neatly organizing every bounced email you've ever encountered.