With cloudHQ, you can set up a real-time backup of all your Google Team Drives to any cloud storage (Amazon S3, Amazon Glacier, Dropbox, etc.).
To set up a real-time backup of your Google Shared Drives, the owner of Google Shared Drives (i.e., Google Workspace admin or maybe team lead) needs to create backup sync pairs that will backup your Google Shared Drives (Team Drives) to your backup storage. cloudHQ supports backup to the following cloud storage services:
Amazon S3 and Amazon Glacier
Dropbox
Box
Google Drive
Office 365 SharePoint
Office 365 OneDrive Business
OneDrive Personal
Egnyte
SugarSync
WebDAV
Amazon CloudDrive
To backup an individual Google Shared Drive just select it in our wizard – the Google Shared Drives are listed under Team Drives section:

If you are backing up the root of your Google Drive account you can include all Google Shared Drives you have access to by selecting the option Synch Google Team Drives: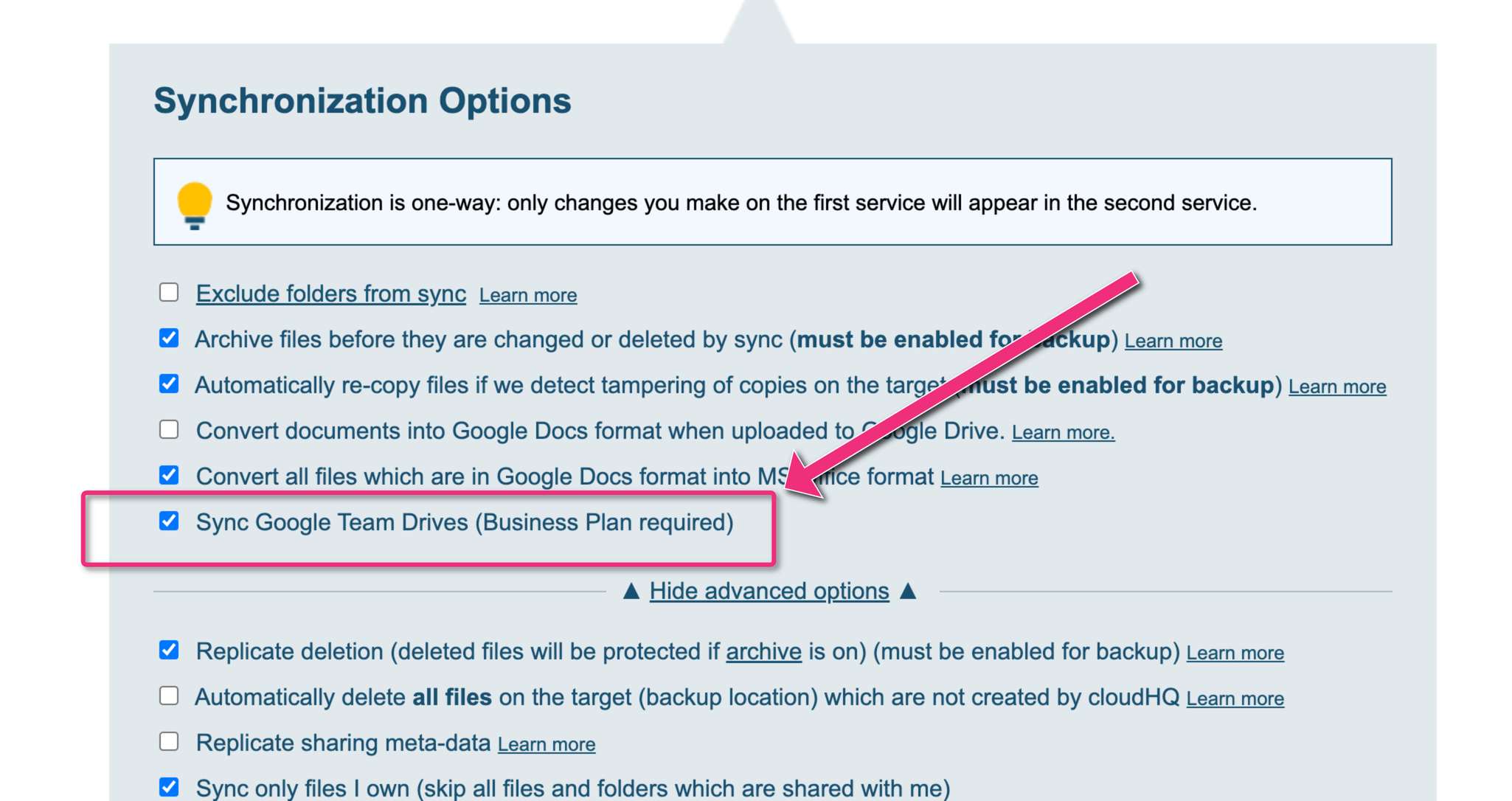 Here are step-by-step instructions on how to back up a single Google Shared Drive:
Click the Google Drive icon:

Select an already-configured Google Drive account or click "Add Google Drive" to add a new Google Drive account. This account must have permission to access (read) all Google Team Drives.

If you click "Add Google Drive," you will be forwarded to authorize cloudHQ to access your account:

Select "I'd like to sync an existing folder" and then select a "Team Drives" folder (not root folder):

Click the icon where you want to backup your Google Team Drives (i.e. Amazon S3, or maybe Dropbox):

Authorize cloud service for backup (Amazon S3, Dropbox, etc.)
Here is How to Monitor Status of Backup.
An email will confirm the success of the initial data transfer.
backup team drive; backup google team drive; backup team drive;